Experience
Enjoy food
Visitors enjoy a wonderful lunch featuring fermented food at the Hiruzen Winery, and a delicious dinner cooked with local ingredients at the accommodation in the evening. Both lunch and dinner feature a special dish served on Gobara Lacquerware, a special treat offered in this program.
About Gobara Lacquerware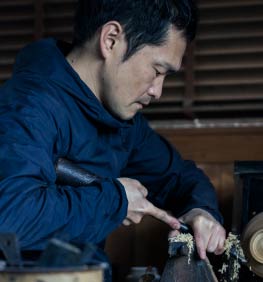 Succession of Traditional Craft – Woodturner TAKATSUKI Kunimitsu
TAKATSUKI Kunimitsu was born in Kurashiki City (Okayama Prefecture). He graduated from the Ishikawa Prefectural Training Institute of Woodturning in 2003, and he began creating Gobara Lacquerware as a woodturner. Gobara Lacquerware was designated an Important Intangible Folk-Cultural Property by Okayama Prefecture in 2006, and he was hired as a prefectural woodturner. Since winning the Okayama Prefecture Governor's Award at the Japanese Traditional Craft Chugoku Branch Exhibition in 2005, the many awards he has received include the 64th Japanese Traditional Craft Exhibition, the NHK President Award, the Fukutake Cultural Award, and the Pola Traditional Culture Encouragement Award. He has given periodical support for lacquer coating classes at elementary schools in Maniwa City to introduce children to the pleasure of manufacturing. He is also actively engaged in workshops at museums.